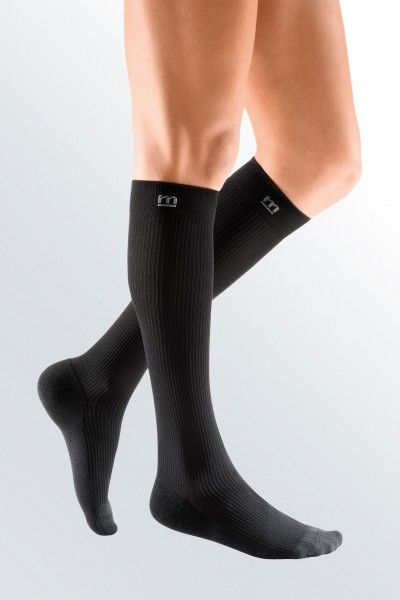 Mediven for Men Class 1 (18-21mmHg) Below Knee
---
Class: Class 1 (18-21mmHg)
Toe: Closed Toe

---
mediven® for men
Elegant compression socks for men
Fashionable Business Rib Design
Anatomically toe design
Added lanolin*
The elegant compression sock for the fashionable business look: mediven® for men is a round-knitted medical compression sock that does not differ optically from a fashionable men's sock.

 Due to the material thickness, the fit and the product characteristics, we recommend mediven for men for amongst others for normal weight men with no or light tendency to venous oedema (leg swelling) as well as for those with soft connective tissue.**

 * Natural substance used to care dry and chapped skin, has a broad range of applications, for example in child care and baby care.
 ** Please note that this recommendation does not replace a doctor's diagnosis or the professional advice of a specialist medical retailer.
Product benefits
Anatomic toe design with handy integrated right/left markings for a perfect fit and comfort in wear
Fashionable business-style ribbed design
Added lanolin** to care for and protect your skin


Clima Fresh for long-lasting freshness for legs and feet
Extra-wide and unusually soft comfort cuff at the top
Suitable for shoe sizes from 39 to 46