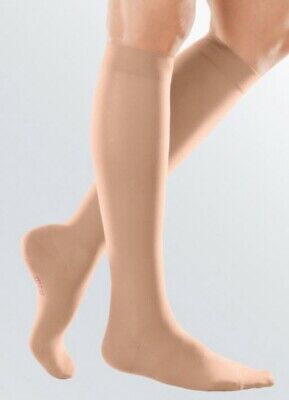 Mediven Elegance Below Knee
---
mediven elegance®
Elegant compression stockings
Transparent fine stocking style
Soft Elastic toe area guarantees more freedom for the toes
Smaller heel for wrinkle-free fit
mediven elegance®: Effective compression has never looked so good.
All you see is beauty: mediven elegance® is a round-knit medical compression stocking in transparent fine stocking fabric. It is used for compression – in the treatment of symptoms and disorders of the venous system of the leg, among other things.

The choice of the optimum compression stocking depends on the indication and the patient's individual needs:
Due to the material thickness, the fabric characteristics and fit, mediven elegance® is particularly suitable for adults of a healthy BMI weight, who do not show any tendency to venous oedema (leg swelling) and have firm connective tissue.
Product benefits
For him and for her
Very hard-wearing and opaque look
Antibacterial effect along the whole leg with Clima Fresh
Optimum fit due to the new Plus heel, optimised toe, ribbed sole reinforcement and 5 cm broad cuff 
Particularly recommended for sensitive and large thighs
Maxi panty top as standard variant
Very good skin tolerability, even for sensitive skin predisposed to allergies